| | |
| --- | --- |
| Featured Item This Hour | Hawaiian Gold News - Thursday, 12/5/2013 |

Hawaiian Gold Earrings
Our Earrings feature both traditional Hawaiian designs as well as contemporary designs that is a perfect gift for any occasion. Browse through our selection
Next hourly homepage update scheduled at: 12/5/2013 - 4:37pm
Hawaiian Jewelry Categories



View all of our Hawaiian jewelry categories.
---
HAWAIIAN GOLD JEWELRY CHRISTMAS SALE - 35% OFF EVERYTHING



Take advantage of the great opportunity
More...
---
Hawaiian Gold Floater Pendants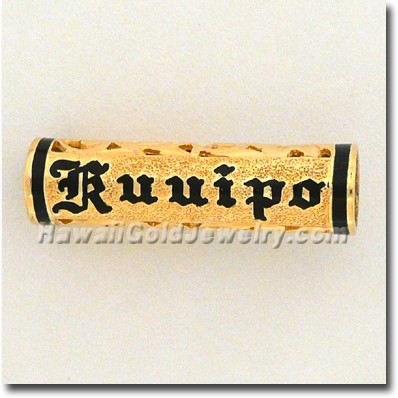 Our floater pendants come in a variety of designs and inscriptions ranging from elegant Hawaiian flowers to characters and initials
Our Ulu Quilt Jewelry - Hawaiian Gold Jewelry


Ulu (or breadfruit)
is a distinctive food-bearing tree which produces abundantly from late summer into winter. Traditionally, Ulu is planted to provide a lifetime of food during the birth of a child. Breadfruit leaf designs are often used in Hawaiian quilt patterns and are also printed on fabrics and other materials such as ceramics. Our selection of Ulu Quilt jewelry highlights the beauty of the plant as well as the quilt patterns it has inspired. We have a variety of Ulu Quilt rings, bracelets, earrings and Pendants for your choose from.
CALL 808-739-9797 FOR SPECIAL DEAL ON ULU QUILT PACKAGE PURCHASE (all items up to 50% off!)
.
Hawaiian Fish Hook Pendant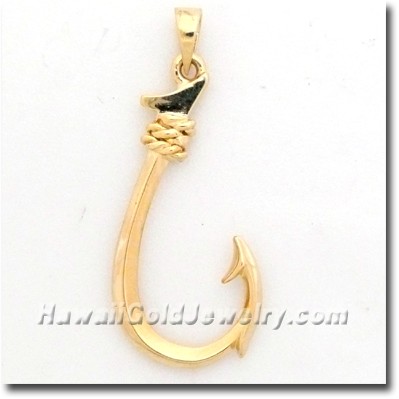 With the deep connection that Hawaiians have with the ocean, the Fish Hook or makau in Hawaiian, is a wonderful symbol of all that is good and promises its wearer good luck, strength and prosperity. Click on link to Take a look at our lovely Fish Hook Pendant.
Hawaiian Jewelry For Your Keiki (Children)- Hawaiian Gold Jewelry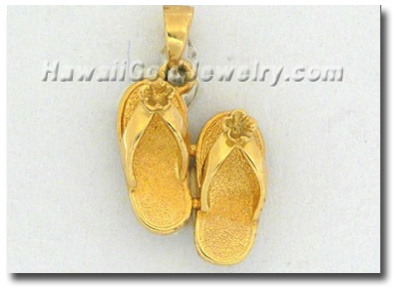 Give your keiki some bling and let their natural charm shine! Browse through our lovely line of Hawaiian gold jewelry for your baby. We have cute slipper pendants, earrings and lovely rings.
Our Lovely Hoku Pendants - Hawaiian Gold Jewelry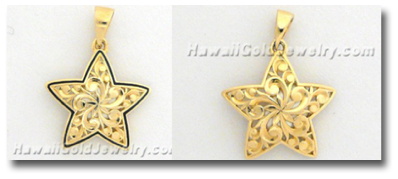 Hoku is the Hawaiian word for star and is also a familiar Hawaiian name. Do you know someone named Hoku or if would like to give this as a gift to the "star" in your life? View our available Hoku pendants adorned with floral prints.

Susan Lura - Navada
4/5/2013 - You are a company I can really tell my friends about, as your customer service is
THE BEST
!
---
Start your Power Search for Gold!



Looking for something specific on our website? We've made it easier with our Power Search function!
Just look for the 3rd yellow box at the top of our website
and start searching for that perfect gold jewelry!
Rebecca - North Carolina

4/1/2013 - I received the ring today.
Beautiful!
I have admired it for a long time. Wish I had ordered it long ago. Thank you.
Rebecca in NC
---
Celebrating Friendship Through Gold



Nothing says "thanks" or "you're a great friend" better than the gift of gold. Our selection of Hawaiian Gold Friendship Heart Earrings are the perfect choice to show how much your friend means to you. Check out our catalog:
Hawaiian Gold Jewelry with Heart (s) - Pendants, Earring, Rings, Bracelets.


View the Hawaiian gold jewelry that features heart(s). Pendants, Earring, Rings, Bracelets.
---
Celebrate the Month of Hearts with our Heart Plumeria Pendants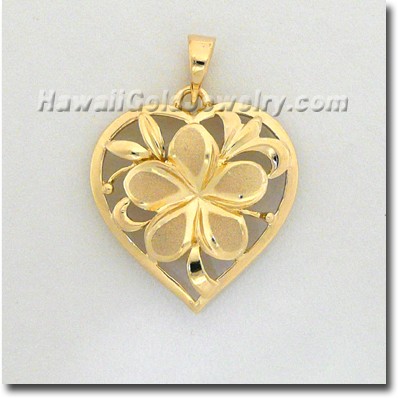 The gift of gold is a great way to show someone how much you care! Choose from our lovely selection of Hawaiian gold Heart Plumeria Pendants. Any one of these would be perfect for your
special Valentine
!
Testimonials



Here is what some of our customers have to say.
---
Upgraded Google Search Added to Website



We have upgraded our search function to better serve our visitors.
Search box on top of every page.
Features
image display
and
date/relevance
sorting.
Popular Hawaiian Hibuscus Gold Jewelry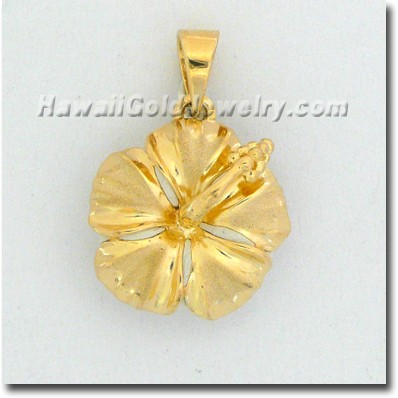 The Hawaiian hibiscus is perhaps one of the best representation of the Hawaiian islands. The yellow hibiscus is Hawaii's state flower, also known as the pua aloalo.
Hawaiians originally adopted the hibiscus flower as their official territorial flower in the early 1920's. In 1988, the Hawaii state legislature officially adopted the yellow hibiscus as the state flower. Each Hawaiian island also has its own designated Hibiscus flower.
View our popular Hawaiian Hibiscus design jewelry and pick your favorite.
Time is Gold - Hawaiian Gold Watches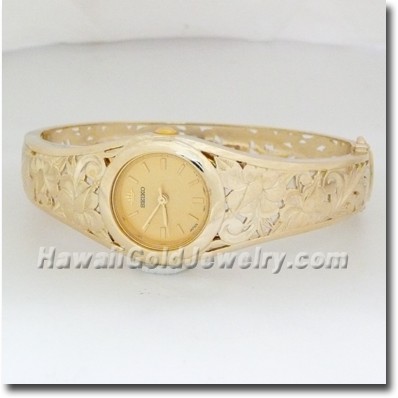 Our lovely selection of Hawaiian Gold Watches combine the sophistication of classic gold jewelry with the functionality of a trusted timepiece. Our designs are inspired from traditional Hawaiian imagery that our customers adore. Browse through our selection and choose your own Hawaiian Gold watch today!
The Hawaiian word "Kuuipo"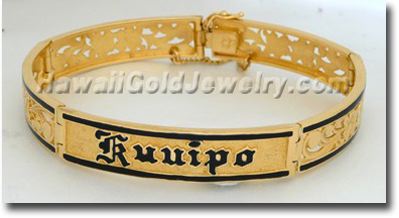 The Hawaiian word "kuuipo" which means sweetheart is one of the most popular words to be engraved in traditional Hawaiian gold jewelry, particularly in bracelets. Browse through our selection of Sweetheart ID bracelets to find the one that suits you or your kuuipo.

Hawaiian Bird of Paradise Rings
The Bird of Paradise flower stands out among many Hawaiian flowers. Its unique shape and bright colors resemble a bird's beak, hence the memorable name. This flower is often found in many Hawaiian tropical gardens and is also a favorite among Hawaiian jewelry makers.
Our varied selection of Bird of Paradise Rings is a prime example. Visit our Hawaiian Rings page for more details (available in White and Rose Gold).

Hawaiian Gold Jewelry For Men
It's not only the ladies that look good in gold. Here are some of our popular gold jewelry for men!

Hawaiian Gold Wedding Rings
If you're looking around for wedding rings, don't forget to check out our online selection of Hawaiian Wedding Rings featuring the classic Hawaiian Plumeria and Hibiscus designs.

Hawaiian Plumeria Flower & Hawaii Jewelry
The Hawaiian Plumeria is one of the most widely seen flowers in Hawaii and symbolizes perfection, springtime and new beginnings. Here are some of our popular Plumeria gold jewelry

Hawaiian Gold Earrings
Our Earrings feature both traditional Hawaiian designs as well as contemporary designs that is a perfect gift for any occasion. Browse through our selection

Hawaiian Gold Accessories - Gold Anklet and Toe Ring
Love your feet! Accessorize and show it off with any of our Hawaiian Gold Anklet and Toe Ring selections.

Hawaiian Gold Stickpins
Our lovely Hawaiian Gold Stickpin collection has been updated. Take your pick from our selection of elegantly crafted designs inspired by Hawaii's Plumeria flower and Birds of Paradise flower.

Hawaiian Gold Jewelry Launches Price Guarantee
We stand behind our prices. If you find the exact same product that is sold or advertised at a lower price, we will match it!

HGJ Super Sale Going on right now!
30% off entire website PLUS 30-Day Unconditional Guarantee Shop now!

There's a Hawaiian Gold Pendant for Everyone.
Find the right style of Hawaiian gold pendant that's right for you. Browse through our selection and take your pick of contemporary, classic or Hawaiian inspired designs.

Win $100 credit on HawaiiGoldJewelry.Com!
Our sweepstakes is going on now and will run until June 15, 2012. You could be the lucky winner of $100 credit for your next shopping spree at HawaiianGoldJewelry.com

Hawaiian Gold Bangles
Our classic Hawaiian Gold bangles reflect the style and design made popular by Hawaii's Queen Liliuokalani. The roots of Hawaiian gold jewelry can be traced back to the era of the Hawaiian Monarchy and it's friendship with the British crown, particularly the Queen who adored the designs that were popular in Britain.

Hawaiian Gold Necklaces
Our Flower Necklaces and Plumeria designs are a perfect gift for any occasion. Be if for yourself or someone special, take a closer look at your next great gift idea!

Hawaiian Gold Jewelry Under $100
View Hawaiian jewelry under $100.
---

Hawaiian Gold Jewelry Updates Hawaii Gold Watches Catalog
View the Timeless Beauty of Hawaiian Gold Watches! Nothing is more unique and timeless than our 14K Hawaiian Gold Watches. Featuring classic designs of popular Hawaiian flowers like Bird of Paradise, Plumeria and Hibiscus.

Classic, Elegant and Beautiful Hawaiian Rings
You don't need a special occasion to reward yourself with any of our beautiful 14K Hawaiian Gold Rings.